Incredible residency in Brazil at Hob Salam hosted by Paola Blanton!
http://www.saladedanca.com.br/podcast-83/?temp-new-window-replacement=true

"The dances of Isadora Duncan performed by Janaea Rose Lyn will linger in the memories of audiences...transformed with such tenderness of gesture, particularly an extremely beautiful and bewitching sequence with rose petals."
- Glos Wielpolska, Poland
A Third Generation Isadora Duncan dancer, educator and historian, Janaea Rose Lyn began her career in 1975 as a member of the San Francisco Duncan Dancers, directed by Mignon Garland.In 1979 she wasinvited to the Akademia Raymond Duncan in Paris as the resident Isadora Duncan dancer, teacher and historian. During this time Janaea worked with Dorée Duncan and initially curated the archives at the Musee des Duncan which appear in "Life into Art, Isadora Duncan and Her World" by Dorée Duncan, Carol Pratl and Cynthia Splatt. She also had the opportunity to work with Madaleine Lytton, a student of Lisa Duncan, and with colleague Barbara Kane.
Isadora Duncan
Janaea Lyn
Janaea returned to San Francisco where she was a company member and instructor with the Dionysian Duncan Dancers. She began a solo career at the Victoria Theatre with pianist Bill Sorenson before returning to New York City in 1984. There she trained with Julia Levien and Hortense Kooluris; and taught and performed as a Guest Artist with the Isadora Duncan Dance Foundation, including at Grace Cathedral in 1988. She exhibited her personal collection of Duncan archival materials at their studio throughout the 1987/88 season. After relocating to Philadelphia in 1990, Janaea worked choreographer, movement coach and guest dancer/historian for the Wilma Theatre's production of Martin Sherman's play When She Danced, directed by Blanka Zizka. In 1994, Janaea was invited to the First Biennale of Contemporary Dance in Poznan, Poland and performed Duncan's work at the Grand Opera House with pianist Paul Fejko. She was the Guest Artist and Lecturer in 2000 for the exhibition of Line Dance: Abraham Walkowitz's Drawings of Isadora Duncan at the University of Delaware to inaugurate the donation of Virginia Zabriskie's extensive collection.
Over the next decade, Janaea taught and performed Duncan Dance at the Convergence Centre in Maryland. In May of 2012 Janaea was a guest teacher and speaker at the 135th Anniversary Celebration of Isadora Duncan presented by the Isadora Duncan Foundation at Judson Church in New York City. Her talk, A Postcard from Paris, highlighted her experiences at the Akademia Raymond Duncan in Paris. Janaea now resides in Phoenix, Arizona where she has been teaching and lecturing on Isadora Duncan Dance at regional studios, colleges and high schools. In February of 2013, she was Guest Artist in Residence at Grand Canyon University and an Instructor at the West Regional American College Dance Festival. In July she proudly participated in the First Isadora Duncan International Symposium (See below). Janaea contines to teach, coach and perform the Duncan work, most recently at the 2017 isadora Duncan International Symposium in San Francisco.
Janaea is a founding member and former Co-Chair of the Isadora Duncan Archive Committee which created the Isadora Duncan Archive:
http://www.isadoraduncanarchive.org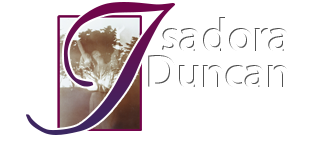 Available for Performances, Master Classes, Residencies, Coaching and Historical Presentations with Archival Collection.
Discovering Duncan
Second Isadora Duncan International Symposium
June 11-13, Joffrey Tower, Chicago
www.duncansymposium.com
Panelist:
Moderator: Alice Bloch
"Duncan's Choreography as the Wellspring of Her Technique"

Workshop:

"Undertow: Isadora's Waves of Movement and Meaning"

Roundtable Moderator:
"Freeing the Authentic Self: Isadora Duncan as Liberator"
First Isadora Duncan International Symposium June 16-18, George Washington University, Washington, DC www.duncansymposium.com
Panelist:
"Teaching Isadora's Art: Best Practices from Creativity and Experience"
Educator:

"Why Are You Dancing? Intention as a Foundation
of Duncan Dance."
Presenter:
"A Postcard from Paris, Artist in Residence
at the Akademia Raymond Duncan"

2012-13 Guest Artist
Isadora Duncan International Symposium
Grand Canyon University
Scottsdale Community College
Paradise Valley Community College
ACDFA West Regional Festival
Kinesphere Studio
Xavier College Prep
Yuma High School
Cibola HighSchool
AZ High School Dance Festival
Chandler-Gilbert High School Festival
STUDENT COMMENTS

I learned from Janaea that dancing isn't about technique,
but about life."

"When you said 'why do we dance?' it got me thinking 'why do I dance?' When I danced not all of my heart was into it and after you came I started dancing with my whole heart.
Thank you for this great experience."

"You helped us see that there is much more to dance than just moving around in a precise manner. Dance is putting an emotion to every move you make."

"You gave us a deeper look at who Isadora was.
She wasn't just a dancer, she was a visionary
who saw a new way to dance."

a gift from photographer Richard Stoots
woodcut by Rachel Romero
Dionysian Duncan Dancers (1982)
PERFORMANCES
Arizona Dance Festival 2013
Janaea Rose Lyn performing Gavotte from Orfeo et Eurydice

jGrand Canyon University TWINGE Concert Videos (4/26/13)
Janaea Rose Lyn performing two Brahms Waltzes with pianist Kelsey McKee,
Op. 39 #4 (Flamenca), and #15 (Petals).
The Ethington Dance Ensemble performing Scherzo,
set to Franz Schubert's Symphony No. 9 in C Major.

EDUCATOR COMMENTS
"Janaea is a consumate artist with a valuable perspective on the art of dance today. Her impact on our dancers was phenomenal. There was a genuine sense that they had rediscovered the dance through studies of Duncan. It was truly a gift to have Janaea as our guest."
Susannah Keita - Director of Dance at Grand Canyon University

Ethington Dance Ensemble

"You are a rich resource for us as educators. Your ability to get the kids moving (all different levels) and experiencing the style of Isadora was fabulous. The solo you performed was also a gift. Your professionalism and accessibility is a winning combination for faculty and students. Someone who has had direct experience and first hand information on this topic brings the lesson to life. I hope that other dance educators will take the opportunity to have you come speak to, and dance with, their students."
MaryAnne Herding - Chair, Xavier College Prep & Director of Movement Source Dance Company


Xavier College Prep

_______________________________

"You graciously and with great love and respect presented two engaging and interesting dance classes.
Your appproach to understanding and developing each student's sense of artistry was very important to their development as young dancers.
Your performance of Isadora's choreography inspired PVCC students and allowed them to appreciate the dance live as well as kinesthetically by learning the choreography.
Thank you for the beautiful drawings and one page history, another tool that added to the wonderful experience you provided."


Sonia Valle - Dance Program Director
,

Paradise Valley Community College

Chopin Waltz Op. 70 #3 (Tanagra)